WESTERN PIEDMONT SYMPHONY WELCOMES NEW YOUTH SYMPHONY CONDUCTOR
HICKORY, N.C. (August 31, 2022) – Western Piedmont Symphony (WPS), the professional orchestra of the western foothills of North Carolina, is pleased to announce JaQuan Wiley as the new Youth Symphony Conductor for the WPS Youth Orchestras program. As the Youth Symphony Conductor, Wiley will be the educational, artistic, and administrative leader for the ensemble and will determine the repertoire and programming in partnership with the WPS Music Director Matthew Troy.
The Western Piedmont Symphony Youth Orchestras (WPSYO) are composed of two ensembles: Debut Strings and the Youth Symphony. Debut Strings is a strings-only ensemble for young musicians who are new to playing in an ensemble setting. This group meets weekly in the fall and spring. The Youth Symphony is a full orchestra of young musicians that meets weekly in the fall and spring to grow as musicians and learn to play as one group. Both ensembles present performances at the end of each semester.
"Western Piedmont Symphony is excited to welcome JaQuan Wiley as the new conductor for our Youth Symphony," said Troy. "He is a standout music educator with a strong network that will enable the Youth Symphony to grow and continue to offer excellent musical experiences for our community."
"Youth involvement within a community builds a strong environment of camaraderie. The role of the community orchestra, band, or choir is important because it fosters and nourishes such shared trust while developing and pushing skills cross-curricularly with daily instruction," stated Wiley. "I am very thankful for this opportunity and incredibly excited to connect and make music with such talented young musicians."
Auditions for the 2022-2023 WPS Youth Orchestras (Debut Strings and Youth Symphony) will take place Thu. – Sat., Sep. 8th (4:00 p.m. – 8:00 p.m.), 9th (4:00 p.m. – 8:00 p.m.), and 10th (10:00 a.m. – 4:00 p.m.) in the Community Rehearsal Room of the Western Piedmont Symphony, 243 Third Avenue NE, Hickory, NC 28601. Interested participants must sign-up for an audition time slot. Sign-up details, audition requirements listed by ensemble and instrument, ensemble season schedule, tuition information, and general materials are available at wpsymphony.org/youthorchestras. Scholarships are available.
WPS recently announced its 58th season of concerts – Experience the Music. Hear Your Story. The 2022-2023 season features five classical Masterworks performances, three dynamic Foothills Pops concerts, four different genres represented on the Chamber Classics series, lunch and learn Soundbites events, and numerous community events and education concerts. For full event details and how to get tickets, visit wpsymphony.org.
About Youth Symphony Conductor JaQuan Wiley:
JaQuan Wiley currently serves as Assistant Director of Bands at Asheville High School, where he conducts the Asheville High School Symphonic Band, directs Asheville High Jazz Ensemble 1, co-directs the Asheville High School Marching Cougars, co-teaches instrumental classes at the feeder middle schools, and frequently guest conducts the Asheville High School Wind Symphony. Prior to his arrival at Asheville High School, Wiley served as Director of Bands at Wheatmore High School in Trinity, NC.
Wiley graduated from Appalachian State University with a Bachelor's Degree in Instrumental Music Education (K-12 Certification). Throughout his time at Appalachian State, Wiley was a two-year drum major of the Appalachian Marching Mountaineers, guest conductor of the Appalachian Concert Band, teaching assistant for beginning and intermediate conducting classes, representative on the Hayes School of Music Dean's Student Advisory Council, and member of various concert and jazz ensembles. Additionally, while in college, Wiley served as Vice-President/President-Elect and President of the Collegiate Division in the North Carolina Music Educators Association, being the first African-American to hold this position. In the Spring of 2018, Mr. Wiley had the honor of guest conducting the Appalachian Wind Ensemble in a recording project for C. Alan Publications.
Wiley has been active as a drum major judge for marching band festivals in North Carolina, been a presenter at the annual North Carolina Music Educators Conference in Winston-Salem, NC, as well as been a panelist for the College Music Society's summer 2020 webinar, "A National Conversation on Music Education in Higher Ed: At the Crossroads of Change?" He is an alumnus of Phi Mu Alpha Sinfonia (Rho Tau chapter) and holds professional memberships in the National Association for Music Education, National Band Association, and International Trombone Association.
About Western Piedmont Symphony:
Western Piedmont Symphony (WPS) is the professional orchestra of the western foothills of North Carolina. For 58 years, WPS has enriched and engaged the communities of Western North Carolina through high quality symphonic music with creative, relevant performances and educational opportunities for all ages. Each season, the Symphony presents an inspiring classical Masterworks series, a fun and unique Foothills Pops series, varying ensembles in the Chamber Classics series, plus education and community engagement programs in the Unifour region, all under the artistic direction of Maestro Matthew Troy. Western Piedmont Symphony is supported by the North Carolina Arts Council and is a funded affiliate of the United Arts Council of Catawba County. Business offices are located on the SALT Block at 243 Third Avenue NE, Hickory. Box Office hours are 10:00 a.m. to 4:00 p.m. Mon. – Fri. For more information about Western Piedmont Symphony, call 828-324-8603, visit wpsymphony.org, or email [email protected]. Follow Western Piedmont Symphony on Facebook, Instagram, YouTube, or Twitter.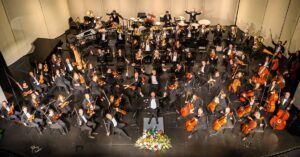 HICKORY, N.C. (June 20, 2023) – Western Piedmont Symphony (WPS), the professional orchestra of the western foothills of North Carolina, announces its 2023-2024 season, MUSIC…
Finish Reading