Western Piedmont Symphony to Premiere "Terminal Star"
FOR IMMEDIATE RELEASE
September 11, 2014
CONTACT: Paulette Miller (828) 324-8603 [email protected]/wps
Western Piedmont Symphony to Premiere "Terminal Star"
Composed by WPS Musician Luke Benton
The Western Piedmont Symphony is extremely pleased to premiere a new work, "Terminal Star," by one of our own–Luke Benton. Benton is a composer, educator, and violinist who calls Western North Carolina home.
Graduating from Hickory High School in 1997, he shared dual roles as the concertmaster of the Western Piedmont Youth Symphony and as a fully contracted member of the professional orchestra. Holding multiple degrees in music composition, Benton's music has been commissioned and performed by the Western Piedmont Symphony, the Lenoir-Rhyne University Wind Ensemble and Concert Band, the Hickory High School Orchestra, the Charlotte (NC) Children's Choir and Youth Chorale, the New Mexico State University Percussion Ensemble and the Vienna Saxophone Quartet, to name a few. His music has been praised as "strong-minded and lovely" by the Indianapolis Star, "wonderfully elegiac and elegant" by the Hartford Courant, and "artfully envisioned" by the Edinburgh Evening News.
In addition to composing and performing with the WPS, Benton also began his professional teaching career at Lenoir-Rhyne University where he teaches classes in music theory, composition, First Year Experience, and film music/aesthetics courses.
In describing his latest composition, Benton explains,
"In recent years my compositional process has become more stimulated by words instead of notes. What I mean to say is, titles tend to come before melodies. In considering a commission of a new work celebrating the Western Piedmont Symphony's golden anniversary, I immediately began thinking of words to illustrate this organization's impact on our community for the past 50 years. "Star"came quite quickly, as I've always considered orchestras to be this beacon of life and beauty shining resplendent amongst the sometimes-ugly backdrop of our modern world. And once I had "Star," I couldn't help but remember the wonder and awe I felt as a child staring up into the night sky, pondering the mysteries of God's creation. It's similar to the amazement I've witnessed children exhibit when they encounter a tuba for the first time (because bigger is always better in the orchestra).
Although "Terminal Star"is (admittedly) an odd pairing of words, the first came quite organically after the second, especially as I began to envision the piece as a musical journey through the heavens:
I imagine a child trying to catalogue each and every fiery orb in the sky, eventually focusing on just one. Magically, the child is sucked into space, drawn uncontrollably (à la Star Wars tractor beam) toward the vortex of raw energy that is the star's center. Momentum gains, colors shift, a myriad of heavenly wonders orbit about him. As he floats above the great sphere, time is suspended and visions of all that has come before him whirl around his head. The voyage halts abruptly, and he is thrust back into an earthly reality."
TERMINAL STAR tries to match this narrative. Shifts in orchestration and a mounting rhythmic and motivic complexity help to convey the starry journey, propelling us toward our terminus.
Additionally, I've applied a more lethal connotation to the word "terminal." Just a brief look around our classical music world shows scores of ensembles — top-tier and community alike — folding under the pressures of decreased audiences and financial decline. The WPS is no exception to such hardships. And while we should clearly rejoice in its remarkable 50-year accomplishment, we should not get carried away with patting ourselves on the back and forget that this extraordinary local institution could vanish overnight, just like a star going supernova.
Finally, Mr. Benton would like to acknowledge Maestro Ross and his fellow musicians of the Western Piedmont Symphony:
"I have been involved with the Western Piedmont Symphony organization for 20 years, and during that tenure, I have been inspired by your amazing musicality and buoyed by your generous spirits. Thank you so much for supporting and encouraging my musical journey, and thank you for your dedication to tonight's performance. Truly, my heart is bursting with gratitude. I feel honored to play in your ranks and privileged to call you all family."
The world premiere of "Terminal Star" will be held at J.E. Broyhill Civic Center in Lenoir, Friday, September 26, beginning at 7:30 pm in conjunction with Masterworks I, Banjo Constellation, featuring world renown banjo master, Bela Fleck. Tickets are $22-$42, available through Etix.com, or email at [email protected]/wps, or call Symphony box office at 828.324.8603 from 10am-4pm M-F. Box office will be open one hour prior to performance. Additional information can be found at page.builders/wps.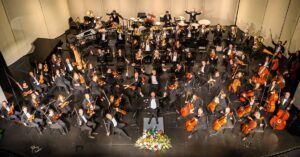 HICKORY, N.C. (June 20, 2023) – Western Piedmont Symphony (WPS), the professional orchestra of the western foothills of North Carolina, announces its 2023-2024 season, MUSIC…
Finish Reading