Corning Incorporated Foundation for In-School Concerts
For Immediate Release
Paulette Miller, Marketing Director
Western Piedmont Symphony
828.324.8603
Western Piedmont Symphony Receives Grant from Corning Incorporated Foundation for In-School Concerts
The Western Piedmont Symphony is pleased to announce the receipt of a two year grant from Corning Incorporated Foundation. This grant will support the educational outreach program by the Western Piedmont Chamber Orchestra and by the participants in our Hickory Metro String Quartet Residency Program.
These funds will support two educational concerts by the Western Piedmont Chamber Orchestra in Alexander and Caldwell County schools targeting grades 4 and 5. Traditionally these concerts have been funded directly by the local school systems. These concerts have been suspended due to budget constraints for several years. For all too many of these students, this is their only exposure to live classical music and to a live orchestra.
This grant would also augment the number of string quartet outreach concerts which are traditionally offered and targeted to grade 2 students. Support from Corning Incorporated Foundation will also allow the Symphony to expand its music education/outreach programs to additional schools in the Hickory Metro area.
This project relates to three of the five focus areas of the Foundation. First, the project is educational in nature as each of our concerts is interactive and addresses goals that relate to overall school curriculum including subject areas beyond music education such as history, mathematics, language arts, physical education, and visual arts. Second, the program focuses on cultural programming representing a broad spectrum of classical music styles, integrating pop music and jazz into many of the programs as well. A special effort is made in our programs to be ethnically and geographically diverse. Thirdly, this project specifically addresses community by allowing us to once again provide a reasonable level of programming to all of our four-county marketing areas and insuring that every student is exposed to both chamber and orchestral music by our outstanding regional musicians on at least two occasions.
Western Piedmont Symphony is a grant recipient of the North Carolina Arts Council and a funded affiliate of the United Arts Council of Catawba County. Business offices are located on the SALT Block at 243 Third Avenue NE, Hickory. Business hours are 9:00 am until 4:00 pm daily. Contact the Business Office at (828) 324-8603 for concert box office schedule or for more information. Visit the Symphony's website at www.page.builders/wps.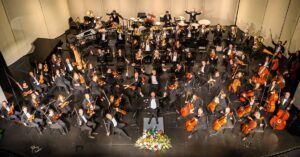 HICKORY, N.C. (June 20, 2023) – Western Piedmont Symphony (WPS), the professional orchestra of the western foothills of North Carolina, announces its 2023-2024 season, MUSIC…
Finish Reading