Due to the COVID-19 crisis, all 2019-2020 season events have been cancelled.
Masterworks Concerts 1, 3, 4 & 5 will be held at P.E. Monroe Auditorium, Lenoir-Rhyne University, Hickory NC.
Masterworks 2 will be held at Drendel Auditorium at the SALT Block at 3:00 & 7:30 pm.
Chamber Classics 1, 2, 3 & 5 will be held in the Drendel Auditorium at the SALT Block.
Chamber Classics 4 will be held at J.E. Broyhill Civic Center.
Masterworks & Chamber Classics concerts begin at 7:30 pm.  All seats are ticketed. All concerts are recorded.
Those arriving late will be seated at the first available pause in the program.
The popular Soup, Salad & Strings luncheon series is held in the Keiser Community Room, West Wing of the Arts & Science Center of Catawba Valley.
Our offices are located in the Main Arts & Sciences Building on the SALT Block campus at 243 Third Ave NE, Suite 1-N, Hickory NC. Parking is available immediately in front of our offices and all around the SALT Block Campus.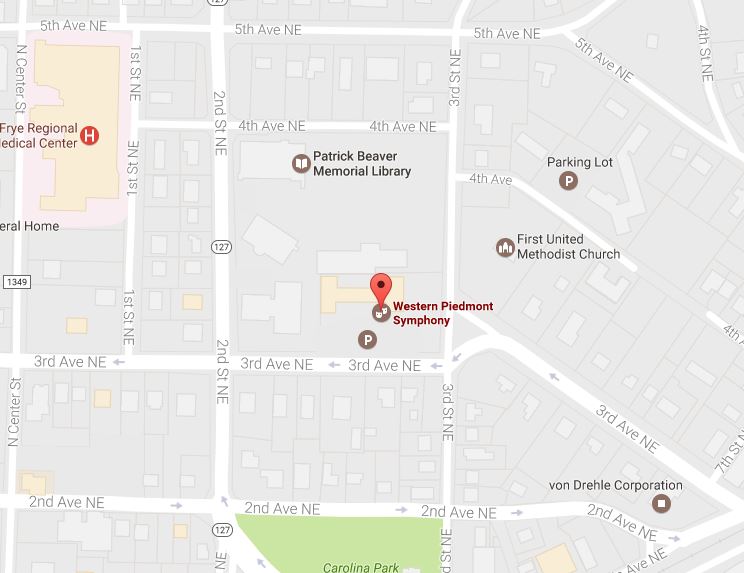 Our concerts and events are performed at various venues and locations throughout the region.  Each concert ticket lists its venue, map and instructions. Handicapped and general parking is readily available at all concert locations. On any given concert date, there is an extremely good chance that the scheduled venue has other activities going on.  Arriving early is very beneficial!
P.E. MONROE AUDITORIUM
Masterworks I, III, IV, & V will be held at P.E. Monroe Auditorium (#4 in the center of the map). The most accessible parking is the large lot between P.E. Monroe and Moretz Stadium. There is also limited parking on the street.
DRENDEL AUDITORIUM
Masterworks II & all Chamber Classics concerts will be held at Drendel Auditorium on the SALT Block. Parking is available by the library and by the Arts & Science Center.
Handicap Seating & Parking
All performance venues are completely handicapped accessible with special handicapped seating areas. You may book these online or call our box office (828.324.8603). Please arrive early in order to secure a handicapped parking space at the concert venue.
Hearing Assistance
Assisted Listening Devices are available at P.E. Monroe and J.E. Broyhill Civic Center. The ushers will be glad to help you.
Special Assistance
If you have any other special needs regarding accessibility, please contact the WPS offices at 828-324-8603.
Masterworks Post-Concert Receptions
All of our high-level donors receive invites to special post-concert receptions.  If you'd like to learn how to become a part of this elite group, email or call our Executive Director, Ingrid Keller, for more information.
Pre/Post Chamber Classics Concerts
Come early for the Chamber Classics concert and enjoy a glass of wine at the cash bar.
Following each of the four concerts this season, stay for the post-concert reception. Meet and greet with our quartet-in-residence, as well as other fellow music lovers!