About Western Piedmont Youth Symphony
The Western Piedmont Youth Symphony has been instrumental in the lives of many young musicians throughout the years. A great number have made music their career.
The WPYS, conducted by Maestro David Wortman performs two concerts a year. Auditions are required. The Youth Symphony practices on Monday evenings from 5-6:30 pm during concert season. For more information, contact [email protected]
SPRING AUDITIONS FOR YOUTH SYMPHONY 2018-2019 SEASON!
The Western Piedmont Youth Symphony will hold Spring auditions for the 2018-2019 season on January 2nd and 3rd from 3:30-6:00 pm. WPYS Candidates should prepare the following for audition:
• 3 Scales
• One prepared solo piece or etude
• Each musician will also be given a short passage of sight-reading
If you have questions concerning auditions, please contact (828) 324-8603 or email [email protected]
Western Piedmont Youth Symphony Schedule
Rehearsal and Concert Schedule 2018-2019 Season
All rehearsals will be held in Keiser Community Room from 5 - 6:30 pm unless noted otherwise.
9/10
9/17
9/24
10/1
10/8
10/15
10/22
10/29
11/5
11/12 Veterans Day, No Rehearsal
11/19 5-7 pm Drendel Auditorium Rehearsal
11/26 5-7 pm Drendel Auditorium Rehearsal
12/3 5-6 pm Dress Rehearsal, 7 pm Concert
1/7
1/14
1/21 MLK Jr. Day, No Rehearsal
1/28
2/4
2/11
2/18
2/25
3/4
3/11
3/18
3/25
4/1 5-7 pm Drendel Auditorium Rehearsal
4/8 5-7 pm Drendel Auditorium Rehearsal
4/15 5-6 pm Dress Rehearsal, 7 pm Concert
Western Piedmont Youth Quartet in Germany!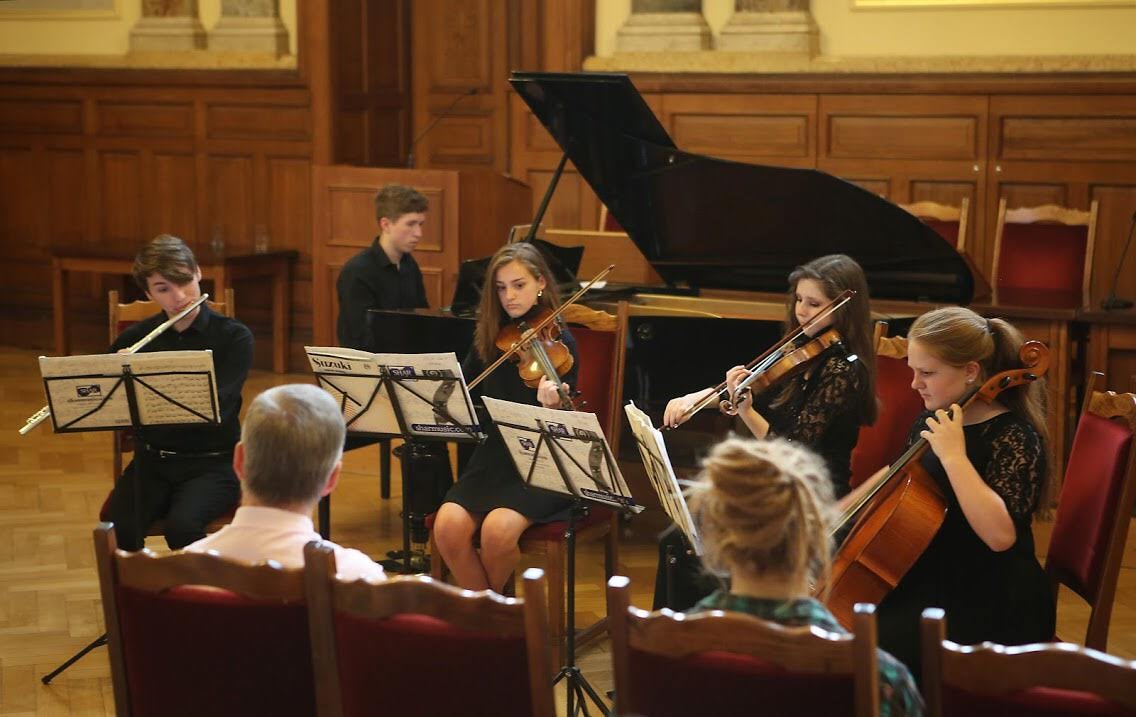 Shortly before the school year began in August, the Western Piedmont Youth Quartet traveled to Germany to perform at the Altenburg Music Festival.  The four students selected from the Youth Symphony to embark on this journey were Rachel Palmer (violin), Maggie Auton (violin), Grant Develle (flute), and Lillia Chapman (cello).  Rounding out the group were two chaperones: Emma Sellers, Director of Multicultural Affairs at Lenoir Rhyne University, and Thomas Michaels (piano).
For the students, the trip was filled with many unforgettable memories.  Lillia Chapman recounts her downtime in the city: "Rachel and I would go around and maybe shop, take pictures, sit in a cafe and eat. That was my favorite because I felt like we got to really feel what it is like to live in Germany and be like a local."  
Most of the trip was spent in the city of Altenburg, although the group made stops in Dresden, Leipzig, and Berlin.  During their time in Altenburg, the quartet was treated with great hospitality; they spent time with students at the local music academy and even had dinner with the mayor.
Beyond the cultural experience, the group gained performance experience in several venues around the city, including a castle and a museum.  Rachel Palmer recalls: "It was a wonderful experience getting to perform in Germany. Every venue we played at was beautiful!"  
Having just formed shortly before the trip, the quartet bonded as a performing ensemble throughout their stay in Germany.  Grant Develle speaks of their progress: "Overall it sounded great and I think as a chamber ensemble we connected with each other to bring music we love and share with others who can truly appreciate that."
This trip was made possible by support from the Western Piedmont Symphony, the Western Piedmont Sister Cities Association, and the Hickory International Council.  
Thanks to our WPYS Sponsors: